An extra £44.5m is to be spent beefing up Channel border security, the UK government is preparing to commit to.
It will be spent on fencing, CCTV and infrared detection technology in Calais and other border points.
It comes as French President Emmanuel Macron visits the UK for a summit with Theresa May.
Britain is also expected to commit to taking more migrants from Calais, especially unaccompanied children, the BBC's James Robbins said.
****************************
Report by Sky News Gregg Heffer.
Nigel Farage has insisted a second EU referendum is "the last thing" he wants but expressed his belief it will be "forced upon" voters.
The former UKIP leader electrified the Brexit debate on Thursday by suggesting a second in/out vote on EU membership should be held to "kill off" the issue.
His comments were quickly seized upon by pro-Remain supporters, while prominent Brexiteers condemned Mr Farage's intervention.
The leading Leave campaigner later used his LBC Radio show to offer a more detailed explanation of – and an apparent backtrack on – his surprising remarks, as he urged Brexiteers to prepare for "one last dramatic battle".
Mr Farage, who leads a group of eurosceptic MEPs in the European Parliament, claimed his meeting with the EU's chief Brexit negotiator Michel Barnier on Monday had prompted his comments.
"I haven't reached this conclusion comfortably or easily but my meeting with Barnier convinced me we are not going to get a good deal and Parliament isn't going to accept it," he said.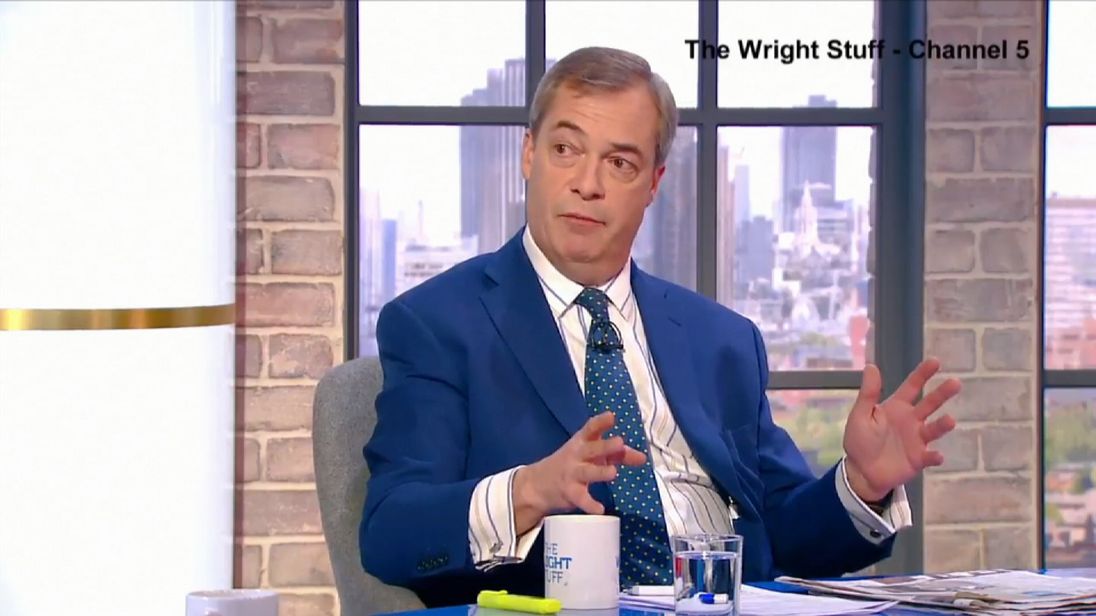 Last month, rebel Tory MPs forced a defeat on the Government to secure a "meaningful" vote on the final exit deal agreed between Britain and the EU.
Mr Farage suggested, if Parliament rejected a Brexit agreement, then "both the Commons and the Lords may well do everything they can to put us through a second referendum".
In an appeal to Brexit campaigners, Mr Farage added: "I'm saying please get yourselves ready, there may well be a second referendum on this.
"This is meant to be, actually, a wake-up call to Leavers.
"I genuinely believe we must prepare for the possibility of a second referendum whether we like that prospect or not."
*********************
Liam Fox has said it is too soon to seek out membership of a flagship Pacific trading group, but insisted it would be foolish for the UK to rule out such an option in the future.
Speaking during a trip to China, the international trade secretary did not deny that informal talks had taken place about the possibility of Britain becoming a member of the Trans-Pacific Partnership, despite the geographic distance.
Fox said the TPP deal, which has lost the support of the United States but still includes countries such as Australia, Japan and Mexico, had yet to be negotiated so it would be "a little bit premature" to want to sign it without seeing the final details.
"However, we have said that we want to be an outward-looking country and therefore it would be foolish for us to rule out any particular outcomes for the future," he said. "So we'll keep an open mind and we'll want to talk to our global trading partners."
His comments came as a former British diplomat who has led both the Foreign Office and the Department for Business, Innovation and Skills, poured scorn on the idea of Britain joining a distant trading pact.
*************************

Tory party donor calls for cabinet to oust May after Brexit deal failure. Pimlico Plumbers founder Charlie Mullins accuses PM of handing power to a 'bunch of bowler hat wearing relics', aka the DUP.
A prominent Conservative party donor has called for ministers to oust Theresa May after failing to strike a Brexit deal.
The founder of Pimlico Plumbers, Charlie Mullins, claimed the prime minister's incompetence is "hobbling" the UK's negotiations and invited "that bunch of jellyfish masquerading as the cabinet" to force her from office.
Mullins also blamed May for handing power to the Democratic Unionist party, who he describes as a bunch of "bowler hat wearing relics".
The DUP's intervention on Monday prevented an EU deal from going through. His intervention follows jitters among Conservative MPs over the handling of the negotiations which they say may have damaged the UK's reputation for competence.
*********************************
Parliament is being treated with contempt over the partial release of Brexit documents, Labour has claimed.
MPs will see for the first time later studies of how the UK's exit will affect 58 sectors of the economy, but certain sections will not be released.
Ministers say they are being as "open as possible" but some sensitive details which risk "undermining the UK's negotiating hand" will be kept private.
Labour said the will of Parliament was being ignored and transparency ditched.
The 850-pages of documents – which MPs demanded be published in a vote earlier this month – has been handed to the Commons and Lords Brexit committees, whose members will begin to study it in private later.
But Labour MP Hilary Benn, who chairs the Brexit committee, said it was "their job" to decide what was published and he objected to the suggestion it could not be trusted to respect confidentiality.
****************************
Brexit: EU bank may not fully repay UK until 2054.
Billions of euros of British taxpayers' money could remain locked into an EU bank for more than thirty years after Brexit, the UK has been warned.
Alexander Stubb, vice president of the European Investment Bank – in which the UK is a 16% shareholder – said it would not be fully repaid until 2054.
He described Brexit as a "travesty" but denied the move was a punishment.
"The EIB has leveraged the economy of the UK many, many fold over the years," he told BBC Radio 4's Today.
The UK has 3.5bn euros (£3.1bn) of capital at the bank and a House of Lords report said the UK's investment could be worth 10.1bn (£8.9bn) euros taking into account reserves and profits.
Established in 1958, the EIB uses capital provided by EU countries to make loans at low rates, often for major infrastructure projects.
All 28 EU nations are shareholders in the Luxembourg-based bank, with the UK being the largest alongside Germany, France and Italy.
Mr Stubb, a former prime minister of Finland, told the BBC that the UK's money could be tied up for decades in after it leaves the EU in 2019.
"Everyone on both sides of the negotiating table agree that we have to pay back the 3.5 billion euro, basically in cash, and that will happen over a long period, up until 2054, because that's when the loans are amortised."
*********************************

EU boss Donald Tusk angers Theresa May by saying she could still reverse Brexit – but she insists it WILL go ahead.
The EU Council president clashed with the Prime Minister by reopening the possibility of her halting the Article 50 process. A Downing Street spokesman hit back saying: 'Brexit is not going to be reversed'
EU boss Donald Tusk has ignited a fresh row with Theresa May by saying she could still reverse Brexit.
The EU Council president is one of the PM's biggest allies in the fraught negotiations, last week slapping down the commission's claims of deadlock.
*******************************

Brexit: Talk of deadlock is exaggerated, says Donald Tusk.
"Could it be that Tusk realises that we are getting fed up with the lack of progress here in the UK and is trying to throw Theresa May a lifeline"?
Reports of deadlock over Brexit negotiations may have been exaggerated, European Council President Donald Tusk has said after a Brussels summit.
Progress was "not sufficient" to begin trade talks with the UK now but that "doesn't mean there is no progress at all", he said.
EU leaders will discuss the issue internally, paving the way for talks with the UK, possibly in December.
Theresa May said there was "some way to go" but she was "optimistic".
Speaking at the end of a two-day summit, Mr Tusk told reporters: "My impression is that the reports of the deadlock between the EU and the UK have been exaggerated."
*******************************

Theresa May refuses to be drawn on whether Government has been given legal advice that Brexit is reversible.
Theresa May has refused to disclose if the Government has been given legal advice on whether the decision to trigger Brexit can be reversed.
The Prime Minister said the Government had been clear that it had no intention of revoking Article 50 which formally began the withdrawal process.
But she refused on five occasions to say if the Government had received any advice about the possibility of Britain performing a U-turn on its departure from the European Union.
*************************************

EU 'steps up' Brexit talks with Labour amid 'plot' to oust Theresa May
There has reportedly been a "change in tone" in talks between Brussels and Labour as the PM struggles to retain her authority.
EU negotiators have reportedly stepped up backroom Brexit talks with Labour amid concerns over Theresa May's future.
The Prime Minister has faced repeated calls to resign since losing the Conservative majority in June, with fresh claims this week that more than 30 Tory MPs want her to stand down.
Uncertainty over Mrs May's premiership has seen EU negotiators "significantly" increase the amount of talks held with Labour since the election, according to one national newspaper.
*****************************

Nick Clegg suggests people join Labour to stop Brexit.
Former Liberal Democrat leader Nick Clegg says people should consider joining Labour in an attempt to prevent Brexit from happening.
In his new book, Mr Clegg said it was "a time of national emergency" and he told people worried about Brexit to "make your voice heard".
He also said joining the Conservatives was "another route to make your views felt".
Mr Clegg, the former deputy PM, lost his seat in June's general election.
 ******************

Theresa May allies dismiss Boris Johnson's Brexit red lines as 'political posturing'
Theresa May's allies have accused Boris Johnson of "posturing" and said that his Brexit red lines are "straw man" arguments designed to boost his profile.
The Prime Minister refused to deny suggestions that the Foreign Secretary is "unsackable" after he set out four new demands for Brexit at the weekend.
In the wake of his intervention Damian Green, the First Secretary of State and Mrs May's effective deputy, publicly rebuked Mr Johnson for making his views public.
******************************
BREXIT Secretary David Davis is looking at plans to set up a new International Treaties Court staffed by British judges to solve the legal mess created by our divorce from Europe, The Sun can reveal.
The proposed panel of judges would liaise with the European Court of Justice and crucially respect future rulings relating to EU citizens living in the UK – currently a testy Brexit negotiations sticking point.
***************************************

Brexit: Davis sees 'no excuse for standing in way of progress'
The EU's Brexit negotiator Michel Barnier has called for a "moment of clarity" from the UK as talks resumed.
The new round of negotiations is the first chance for the EU team to respond to Mrs May's speech in Italy last week, in which she said the UK wanted a two-year transition period and would honour its financial obligations.
Speaking in Brussels, Mr Barnier said he was "keen and eager" for the UK to translate the "constructive" sentiments in Mrs May's speech into firm negotiating positions on issues such as citizens' rights, the Irish border and financial issues, including the UK's so-called divorce bill.
Remarking that it had been six months since the UK triggered Article 50, he said progress on these three fronts was essential to allow talks to move on to the future of the bilateral trade relationship, as the UK would like.
"We are six months into the process," he said. "We are getting closer to the UK's withdrawal. I think this moment should be a moment of clarity."
**********************************

Theresa May wants two-year 'implementation' UK EU deal
Theresa May has suggested an "implementation period" of "around two years" after the UK leaves the EU in 2019.
At her speech in Florence, the prime minister said "neither the UK, nor the EU and its members states, will be in a position to implement smoothly many of the detailed arrangements" in their post-Brexit relationship.
She said people and businesses should only have to plan for one set of changes, and her suggestion meant: "These arrangements will create valuable certainty."
Here's a round-up of key points in the PM's Florence speech and reaction to it:
Transition period could be around two years, during which time access to the single market will continue on current terms
Mrs May proposes a "bold new security agreement" between the UK and EU
On trade, the PM says both sides could do "so much better" than adopting existing models
The UK would honour commitments made while it remains a member
There was "no need to impose tariffs where there are none now"
EU chief Brexit negotiator Michel Barnier described the speech as "constructive"
He said the prime minister had shown "a willingness to move forward"
Labour leader Jeremy Corbyn said the speech suggested the PM had faced up to the reality "that Britain needs a transition to provide stability for businesses and workers"
But former UKIP leader Nigel Farage said: "Theresa May's vision is that we leave the European Union but we do it in name only."
*****************************
Boris Johnson says the government is "working together" and that he will not be resigning after criticism of his intervention on Brexit.
The foreign secretary has been accused of undermining Theresa May with a 4,000-word article setting out his own post-EU vision.
But he told journalists the government was "a nest of singing birds".
Ex-chancellor Ken Clarke accused Mr Johnson of making a pitch for a future Tory leadership election.
*********************************
Brexit: Boris Johnson 'back-seat driving' over Brexit, says Rudd.
Boris Johnson has been accused of being a Brexit "back-seat driver" by the home secretary.
Amber Rudd said it was fine for Mr Johnson to show his enthusiasm but he was not "driving the car" after he set out his vision for the UK post-Brexit in an article in the Daily Telegraph.
She said ministers must be united in their approach and help the prime minister manage the Brexit process.
The BBC understands Mr Johnson will not be sacked despite anger among some MPs.
Lib Dem leader Vince Cable urged the prime minister to "fire this guy on Monday morning", warning that if she did not act her authority would be "reduced to zero".
Meanwhile the chairman of the UK Statistics Authority has written to Mr Johnson, questioning his decision in the 4,000 word article in Saturday's Telegraph to refer again to a disputed figure used by Leave campaigners during the referendum about the UK's EU budget contributions.
"I am surprised and disappointed that you have chosen to repeat the figure of £350m per week in connection with the amount that might be available for extra public spending when we leave the European Union," Sir David Norgrove said.
"It is a clear misuse of official statistics," he added.
'Irrepressible enthusiast'
Ms Rudd said she had been too busy dealing with the terror attack in London to read the foreign secretary's article.
But asked about Mr Johnson's intervention, she said: "You could call it back-seat driving, absolutely."
"I don't want him managing the Brexit process, what we have got is Theresa May managing the process, driving the car. I am going to make sure, as far as I and the rest of the cabinet is concerned, we help her do that."
Asked whether she shared the concerns of those – including Scottish Tory leader Ruth Davidson – who have criticised the timing of the intervention. she said they had a point.
"I know what an irrepressible enthusiast (Johnson) is about Brexit, and what he's done is set it out there, I think it's absolutely fine, I would expect nothing less from Boris," she said.
****************************
Foreign Secretary Boris Johnson has repeated the controversial claim that leaving the EU would save £350m a week, which could be spent on the NHS.
The figure, used by Leave campaigners before the referendum, was "misleading", the UK statistics watchdog later said.
Mr Johnson wrote in the Daily Telegraph that it would be fine, "if a lot of that money went on the NHS".
Labour leader Jeremy Corbyn said his words "dredge up the fantasy".
In the run up to the referendum, the Leave campaign claimed the UK sent £20bn a year, or £350m a week, to Brussels in 2014.
Vote Leave emblazoned the figure on its campaign bus and said the money could be used to fund extra spending on public services such as the NHS.
But a letter from the head of the UK statistics watchdog Sir Andrew Dilnotduring the referendum campaign described the figure as "potentially misleading".
*****************************
No sooner had her next European adventure been confirmed than the speculation began.
What message will Theresa May take with her to Italy next week? Inside Number 10, the view is not to spill a single fagiolo, a bean, before the words come out of her mouth.
That's not just because they want the story to be told on her own terms in her own words, when she is ready to tell it.
But also, perhaps, because I'm told that she is yet to have signed off the full contents with those members of the cabinet who might object to some of it.
And frankly, at this stage, it is extremely difficult to get to the bottom of what the precise thinking in government really is, about the next move on Brexit.
And it is also very hard to understand exactly what the views really are from the different parts of the EU machine.
In the coming days, I'm told Boris Johnson is likely to see the PM. She'll try to square him on her plans, with private suggestions that she has to persuade him to accept cash going to Brussels.
That would go against, of course, what he suggested in the referendum campaign, and also how he evoked the memory of Margaret Thatcher earlier this year, by mentioning the "illustrious precedent" of Fontainebleau.
******************************